Dr. Remzi Gashi
Surgeon
Select your payment option and book an appointment for Online consultation: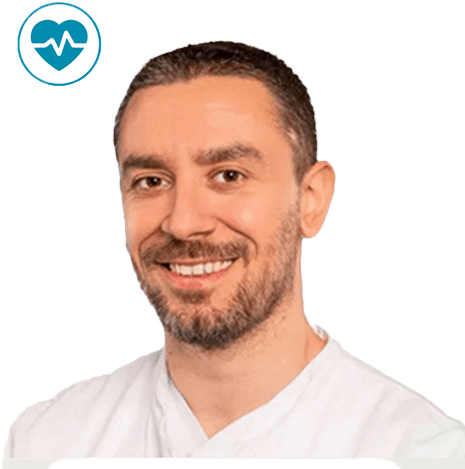 Consult online with Dr. Remzi Gashi, Abdominal Surgery Specialist. Dr. Remzi is the Chief Physician at the Clinic for General and Abdominal Surgery in St. Georgklinikum in the city of Eisenach, Germany. At the time reserved only for you, tell Dr. Remzi everything about your illness, he will listen to you carefully and help you diagnose and suggest the best treatment for your cure!
Dr. Remzi is also specialized on minimal invasive surgery, endoscopic surgery and recently he specialized on Robotic Surgery using the system of DaVinci XI, treating surgical diseases such as:
- Acute appendicitis
- Hernias: Inguinal hernia, umbilical and incisional hernias
- Diaphragmatic Hernia (Hiatal Hernia - Fundoplication)
- Tumors of the Esophagus, Stomach, Intestine, including the Colon
Chronic inflammatory bowel disease (Morbus Crohn and Colitis Ulcerosa)
- Complications of Gastric Ulcer and Duodenum
- Pancreatic Diseases with special emphasis on tumors (Carcinoma)
- Primary Tumors and Liver Metastases
Diseases of the Cholecystitis and Biliary tract
- Proctological Diseases (Hemorrhoids, Fissure, Fistula)
All with Minimally Invasive Method - Laparoscopic or Robotic.
The doctor was never closer to you, now from Germany straight to your home!